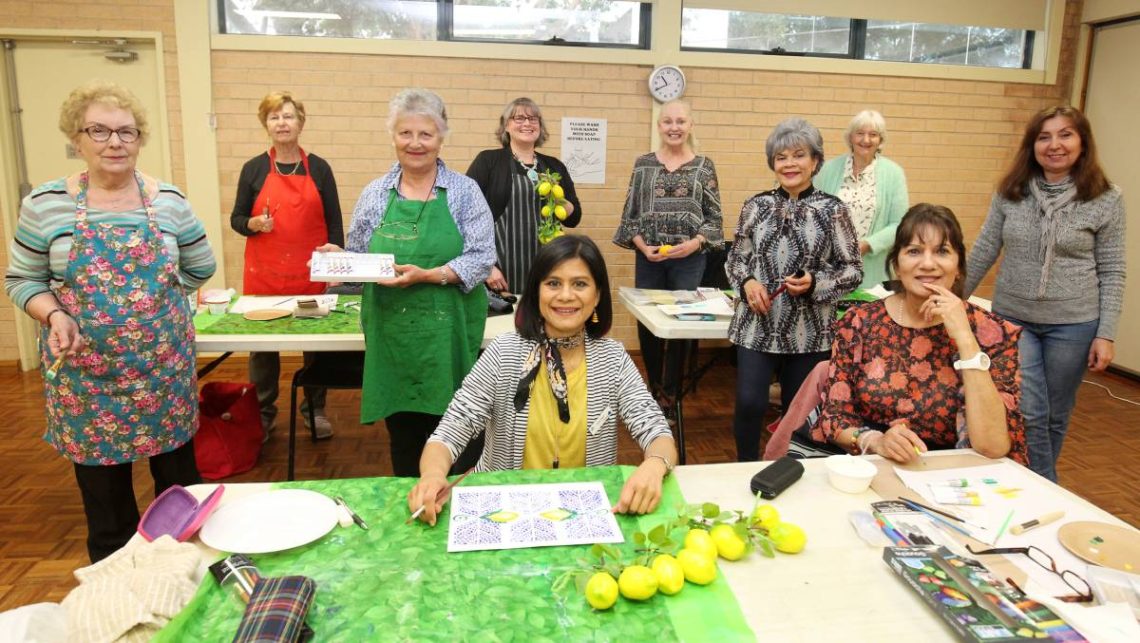 A low-cost program that combines art and mindfulness has resumed at Orana, Sutherland, to aid client well-being.
Orana provides much-needed support to vulnerable members of the Sutherland Shire community through a range of programs, many of which are run by volunteers, including Melissa Martin.
Mrs Martin is a practising art therapist, well-being facilitator and contemporary artist from Burraneer who operates Mel's Art of Zen. She created the Artfully Social classes three years ago to bring creative art therapy to Orana clients.
Creative art therapy is a form of mindfulness and relaxation that allows participants to tap into their inner selves and creatively express thoughts, emotions and feelings in colour and imagery.
"The actual process of creating art, or anything creative, is highly beneficial mentally and physically, as we respond by relaxing and finding solace or peace in what is being produced whilst having fun," Mrs Martin said.
"Best of all, everyone can unleash their inner creative side."
Mrs Martin said the program aims to bring people together in a safe space where they can engage and connect socially while learning simple art techniques.
She said, "no specific artistic ability" was required to take part in the sessions. Everyone works at their own pace and to their level of skill. Work is not critiqued, instead, classes are designed to be relaxing, nurturing, empowering and enjoyable.
"Artfully Social is designed to cater for the non-artist who wants to be more creative and seeks to take away the stress of feeling 'artistically inadequate'," she said.
"For those who are artistically inclined, it provides an outlet for additional skills and the ability to free-flow creative expression purely for personal gratification for a change.
"It's a great way to reconnect and recharge one's self and have creative fun in a social setting."
A number of mixed media techniques and materials are used during classes, including doodling, drawing, painting, collage and creative journaling.
"Each workshop session seeks to start the participants on a journey of finding and developing their true and authentic self-expression through a series of structured creative activities," she said.
"Participants are guided through the art process and also learn different elements of art, such as art appreciation, history, art techniques and styles.
"Each session is unique and over time participants build up their confidence and skill levels and are challenged to take on more complex art creations."
As well as in-house art workshops, the group occasionally holds outdoor sessions or visits art galleries such as Hazelhurst Arts Centre or Hurstville Gallery & Museum to view exhibitions, with Mrs Martin acting as facilitator and guide. The group even held its first in-house art exhibition last December.
Like many of Orana's activities, classes had to be put on hold for several months due to the coronavirus pandemic.
During that time, Mrs Martin stayed connected with the group remotely via What's App and held free virtual Mindful Art sessions to keep members occupied creatively and help alleviate their concerns and stress levels.
Article By Merryn Porter for St George & Sutherland Leader
21 September 2020